donations welcomed $5-$20
Following their residency, artists Ferrier and Wolf offer
an informal showing
AUGUST 20, 6pm

A durational performance/installation by queer, cross-disciplinary artists Katherine Ferrier and Meg Wolfe that disrupts traditional techniques of both improvisational movement and patchwork. They explore emerging forms, nascent friendship, and neurodivergence; centering process and collaborative sense-making.



Two figures alternate between sorting a giant pile of fabric scraps, stitching at two sewing machines, moving in the space, and attaching sewn pieces to the wall. The work unfolds over three days, building both a physical patchwork that grows in size, and a shared movement language that grows in complexity and nuance. Viewers are invited into an intimate witnessing as the space is transformed, seam by seam, gesture by gesture.




PIECE / WORK will be included as part of the exhibition, Can't Take My Eyes Off You,

curated by Faythe Levine, opening

at

SPEEDWELL Projects

gallery in Portland, ME from September 7-9, 2022.



---
---
Long Days of Summer: a Celebration!
A Craft and Knitting Circle(s) all day,
JULY 1st -9AM to Sundown

w/a potluck at 5pm
Open to all!
at which time we also invite any who wish to, to share beginnings of a project,

doesn't have to be a craft project!
...a sweater, a poem, a tune, a seed, a thought, a proposal for action...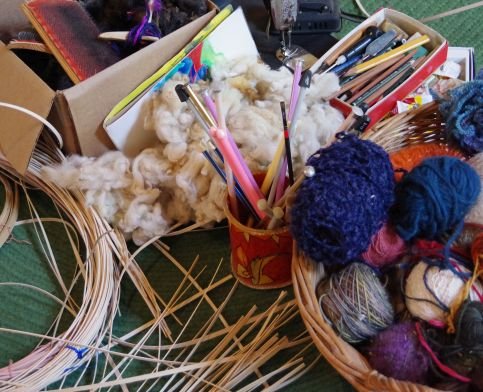 Come by ~when you can~
for the day / for the potluck / to say hi / early & later / whenever
Bring a project that you are working on, or find inspiration here.
(limited supplies for basket weaving, spinning, sewing and knitting will be on hand)
safe distancing will be assured in all of our rooms
2021
--most events virtual & live streamed--
please email us for the link
---
---
What does Liberation Sound Like?
A Performance, Presentation and Conversation Circles
October 2, 5pm
By reservation only. Please RSVP to info@cannerysouthpenobscot.org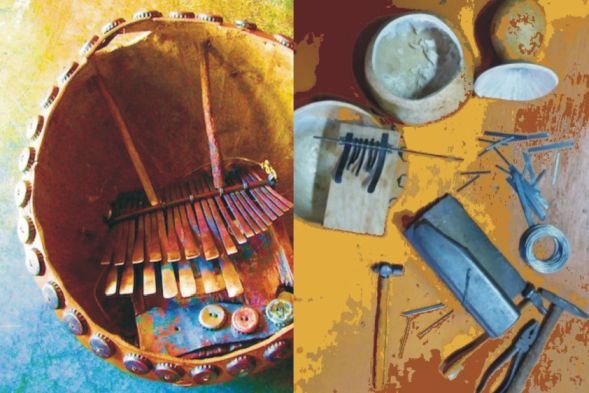 A short presentation will be offered on the Mbira and its place in Zimbabwe's liberation movement. Participants in the day's instrument-making workshop (open to those previously incarcerated and their advocates) will share freshly composed pieces before joining guests in conversation circles.

Restorative justice advocates often look to the traditional African concept of ubuntu (which has varied translations related to human connectivity) to ground their movement toward nurturing inclusive and participatory communities, and to offer a community-based approach to repairing harm as an alternative to incarceration. Similarly, the mbira (pronounced em-BEE-ra), a family of musical instruments native to the Shona people of Zimbabwe, holds history and knowledge that can inspire us: Traditionally played to call the ancestors, mbiras became instruments of resistance to colonial rule and a source of sonic resilience during Zimbabwe's liberation movements.

How might the mbira—building them, playing them, making music with them together and then sharing—help us find our own sounds of liberation?.
As part of Freedom and Captivity Festival and in partnership with TUG Collective and Downeast Restorative Justice, the organizers kindly request that all participants be vaccinated against COVID-19, with limited exceptions made for participants with legitimate medical conditions. Masking and physical distancing will be required.
CANCELED: we hope to reschedule

Tom Hamilton & Jacqueline Martelle //
in residency; September 15 - 19
Conjecture, No Conclusions
(A concert of recent and very recent music)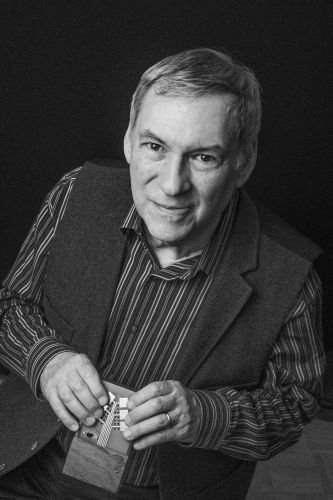 TOM HAMILTON has composed and performed electronic music for over 50 years. His music references the 1970s era of analog electronics, and contrasts structure with improvisation and textural electronics with acoustic instruments. He employs "aural scores" to connect performers to a changing context of electronic sound, prompting the use of "present-time listening" by both performer and listener. Hamilton is a Fellow of the Civitella Ranieri Foundation and has received the Mike Zagorski Artist Award from the Sound Symposium festival in St. John's NL.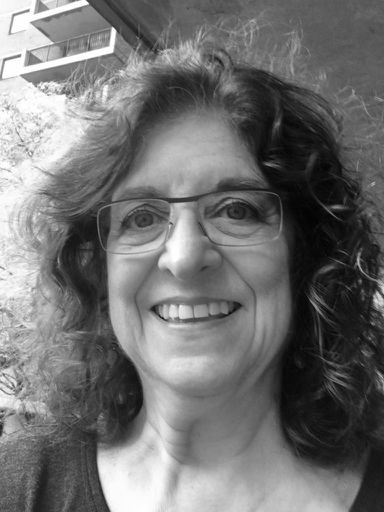 Flutist JACQUELINE MARTELLE resides in New York City, where she has performed in diverse concert venues, including Experimental Intermedia, Symphony Space, Issue Project Room, Roulette, Le Poisson Rouge, Third Street Music School Settlement, Merkin Concert Hall, the CUNY Graduate Center, and Carnegie Hall. She has been a featured artist in the World Music Institute's Interpretations series and has appeared with the Remarkable Theater Brigade's Opera Shorts at Weill-Carnegie Hall. Martelle has presented concerts and recitals highlighting the flute in combination with electronic media and has premiered works written for her by Larry Austin, David Behrman, Tom Hamilton, Alvin Lucier, Al Margolis, and Robert Rowe.
---
---
Drew Wesely & Eli Wallace //
in residency; June 20 - July 4 /
Performance Jul 3
Drew Wesely
(guitar) and
Eli Wallace
(piano) have cultivated a unified musical connection as a result of three years of consistent collaboration. They improvise collectively, employing a variety of non-standard techniques to create multifarious sounds from their respective instruments. This approach creates music that is constantly morphing and shifting, due to their attention to sonic detail, rhythmic interaction, and creation of a liminal space.
They wish to use the time at the Cannery to further develop their duo vocabulary and interaction through daily practice, workshopping new ideas relating to sound combinations, and employinging new strategies for constructing and informing their musical morphology. Their work will culminate in a performance halfway through the residency and a recording at the end.
summer 2020 events on hold
may you stay safe and healthy in this time of crisis

January 25, 7 pm //
Fences / Snowfall / Elms
Fences / Snowfall / Elms is a screening of three works mediating the relationship between humans and our environment.
Saints of Circumstance is a film by Matt Shaw inspired by the team of public and private efforts in Castine, Maine to preserve and re-plant their elm trees, the film venerate the trees themselves while remaining aware of a reliance on human assistance for them to thrive..
field: snowfall, February 13 immerses us in the aural realm of weather; a piece by Steve Norton, sound artist and musician whose artistic research examines electroacoustic music, improvisation as a method, the environment, modernity and society.
Graciously made available by the Northeast Historic Film,
Just Fences
reminds of us the ephemerality of our constructed world
After the screening, please join us for conversation over snacks and drinks. This event is free and open to the public. The artists ask for a small donation at the door, if you can, to help support programing at The Cannery.
---
December 12, 3pm // community workshop: darning
moths got your socks?

Bring along that favorite sweater now unraveled, those moth eaten socks or that shawl that caught on a nail/. We are going to have the pleasure of Marty Clark's guidance for some creative darning!
Please bring some darning needles if you have them. There will be plenty of loose yarn to pull from.
All ages welcome!
---
November 22, 6 pm //
NUEVAS COLOSAS
Artist Talk, Performance & Community Potluck
CONVIVIUM / POETRY / PERFORMANCE / POTLUCK
The New Colossus, NUEVAS COLOSAS is a performance art piece which explores immigration across Maine through the spoken art of poetry. Performer Joshua McCarey and Threadbare Theatre Workshop, in residence at The Cannery at South Penobscot, will give a public talk and performance of NUEVAS COLOSAS.
Inspired by Emma Lazarus' poem, NUEVAS COLOSAS quests to make visible the contributions of immigrant women to Maine society in the time since Lazarus' poem was penned in 1883. McCarey will be joined by Kate Russell and Esther Adams of Threadbare Theatre Workshop, whose mission is to illuminate epics in a simple way through the magic of resourceful storytelling; laying bare our humanity so that we may thread more empathy into existence.
Join us for this free community event, performance and potluck.
Bring a favorite dish if you can, all ages welcome!!
---
October 6, 2 pm // HOT ROT
&
Installations LAST DAY

Celebrating the closing of the Sound Installation Festival, HOT ROT: Eulalia Zigman and Sarah Finn (movement, textiles and poetry) will offer a performance and Zine launch following their week long residency at the Cannery.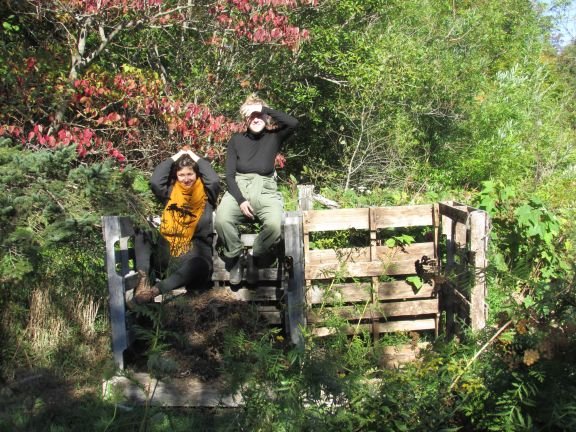 Eulalia Zigman / Sarah Finn
HOT ROT is a corporeal love letter to the compost pile we cohabitate and tend to. This works in process showing is a physical exploration of disintegrations in revelation; an archive of sensual emergence from de/composition. This installation performance is the culmination of a week long residency and submission-based assemblage, where Zigman and Finn, dug into the material of decay and disruption as the encounters that bind us joyously, and in complex networks, to one another. Eulalia Zigman and Sarah Finn invite the public to join them in this exploration. Light food and printed material to accompany this showing.
Last chance to view the works of our 2019 Sound Installation Festival with works by Norton, Ostrowski, Wright, Ross and Chessa!
september 14, 7 pm // Making the Archives Sing! Voicing Histories
SIDELINES/ In Translation Series: Collaborations from the world in more than one language initiated by Beatrix Gates

Poetry READING & CONVERSATION: with award-winning poets Julia Bouwsma & Beatrix Gates. Bouwsma & Gates will present their approaches to creating an active conversation between personal experience and historical experience by investigating connections to and distance from histories in question. They will read from completed work and work-in-progress.
Julia Bauwsma
Julia Bouwsma lives off-the-grid in the mountains of western Maine, where she is a poet, farmer, editor, and small-town librarian. She is the author of two poetry collections: Midden (Fordham University Press, 2018) and Work by Bloodlight (Cider Press Review, 2017). Honors she has received include the 2019 and 2018 Maine Literary Awards; the 2016-17 Poets Out Loud Prize, selected by Afaa Michael Weaver; and the 2015 Cider Press Review Book Award, selected by Linda Pastan. Her poems and book reviews can be found in Cutthroat, Grist, The Ilanot Review, Poetry Daily, Poetry Northwest, RHINO, River Styx, Verse Daily, and other journals. She serves as Library Director for Webster Library in Kingfield, Maine.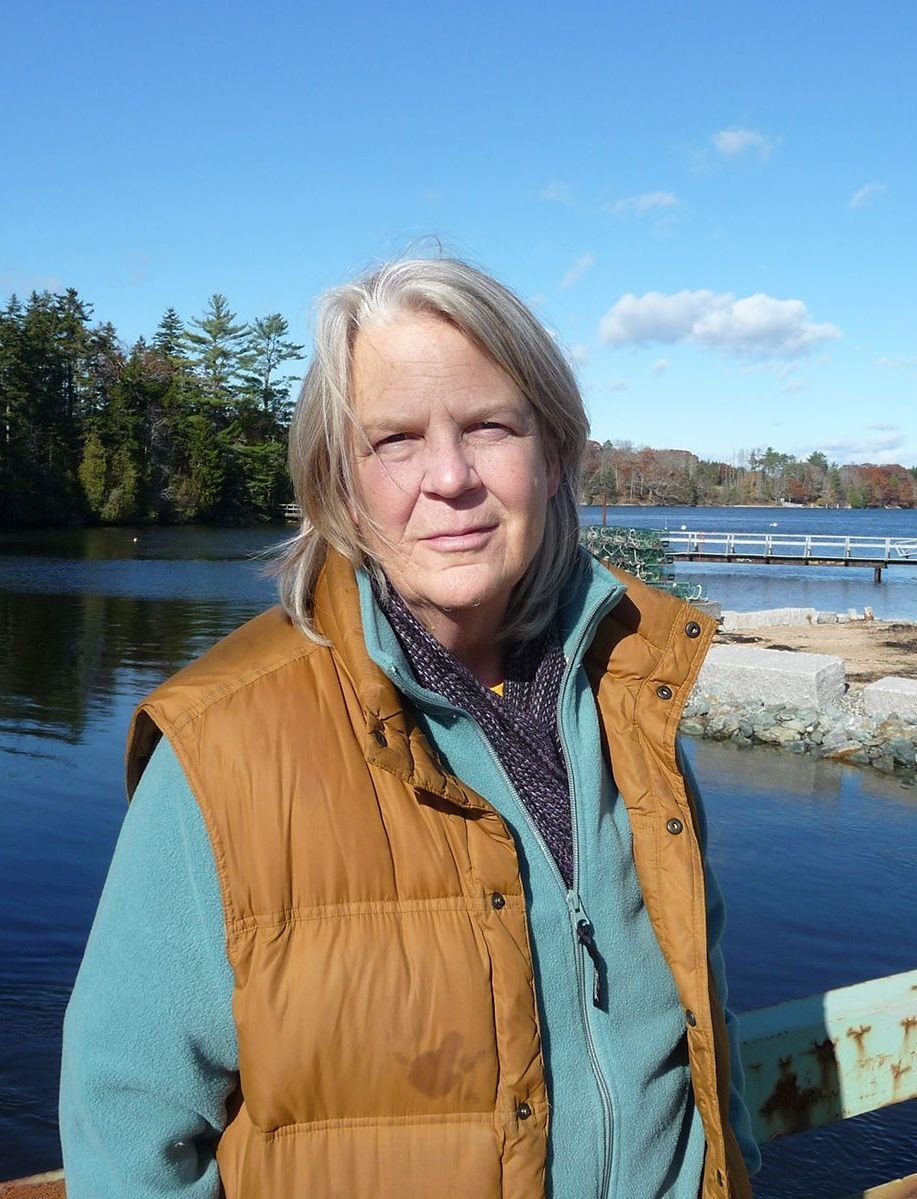 Beatrix Gates
Beatrix Gates' Desire lines will be published by Artifact in 2019. She has published five collections, including Dos and In the Open, a Lambda finalist. She received the Huntington Library Jutzi fellowship to research astronomer Henrietta Swan Leavitt and shared a Witter Bynner Award with Electa Arenal for Jesús Aguado's The Poems of Vikram Babu. A returning fellow at MacDowell & VCCA, hybrid work appears in Scotland's MAP and A Radiance of Attention: Jane Cooper with poems & translations in The Kenyon Review, Tarpaulin Sky and Tupelo Quarterly. At Granite Press, she published the bilingual IXOK AMAR.GO, Central American Women Poets for Peace. A Goddard MFA faculty member, she has taught writing and literature for over twenty years at Colby, NYU, CCNY, and BC's QUEST University. She lives in Brooksville, Maine. .
Beatrix Gates
---
---
august 24, 7:30 pm // New Sound Installation + Concert + Performance
To celebrate and mark the occasion of the opening of Mathew Ostrowski's summerland, a new installation for the 3rd (Not-Quite-Annual) Sound

Installations

Festival, there will be a concert double-bill: a Voice and Movement Performance by the duo Echo Den, and sound-artist Matt Ostrowski on laptop and electronics.
Matthew Ostrowski & summerland
The Summer Land: An inhabitable sphere or zone of spiritualized matter in space.
Andrew Jackson Davis, 1867
summerland
is an installation for 24 antique telegraph sounders where all sounds are derived from the writings of Morse and transcripts of Fox's communications with the Summer Land. This work attempts to seize from the ether the dead voices of Samuel Morse and Kate Fox, materializing language by reducing it to streams of particles, taking the form of an electromagnetic seance. New York City composer, performer and installation artist
Matthew Ostrowski
will perform solo with laptop and electronics for the opening of his piece.
Summerland is made possible by the New York State Council on the Arts with the support of Governor Andrew M. Cuomo and the New York State Legislature.
Carol Genetti & Asimina Chremos
Echo Den is the duo of Chicago-based experimental vocalist Carol Genetti and Philadelphia-based dance artist Asimina Chremos. The two have been performing together on and off for over 15 years, exploring a primal sisterhood through nuances of voice and gesture, sensitive improvisational practices, and deep inner listening.
Asimina Chremos
multidisciplinary artist in dance, performance, improvisation, and fiber arts and veteran experimental vocal improvisor whose work extends to sound and visual art media.
Carol Genetti
are stopping for a concert on their Maine tour!
---
august 9, 3pm // community workshop:
basket weaving

Carolyn Van Cise will guide us through some fundamentals of basket weaving. Some basic minimal materials will be provided --all contributions are welcome!
We will also have some available tools to share, but if you have sharp snips, flat pliers or other basket weaving tools please bring them along too.
---
august 3, 7:30 pm //
the lowest of winds

Janet Underhill / Patrick Crossland / Leslie Ross
Following a short, collaborative residency, Jane Underhill (bassoon and contra-bassoon) & Leslie Ross (bassoon) will share an evening of improvisations and scored pieces--to be joined by returning guest, trombonist Patrick Crossland who wowed the audience here last summer.
august 1, 7:30 pm //
Haynes / Platz / Smith / Crane
Quartet


Stephen Haynes
cornet

Jeff Platz
guitar

Damon Smith
bass

Matt Crane
drums and percussion
The cooperative quartet is a New England-based cooperative ensemble steeped in the traditions of Free Music. Convened in Providence, RI, the group is a rare example of a working band, whose album - Search Versus ReSearch - was issued earlier this year in the Italian Setola di Maiale label. Expect the unexpected, delivered with great grace.
Stephen Haynes
Jeff Platz
Damon Smith
Matt Crane
---
july 27, 7:30 pm // Electric Kulintang Suite
and Other Pieces

Caitlin Cawley and Melinda Faylor, dynamic improvisors and composers will each offer a solo performances of new pieces before joining forces in a group improv.
Melinda Faylor
Brooklyn based pianist and multimedia collaborator/curator, Melinda Faylors's
Electric Kulintang Suite: Fantasy and Fugue
is a work in progress and composed using recorded samples of the Kulintang ensemble gongs and drums of the Philippines manipulated live and complemented by prepared piano. This performance is accompanied by psychedelic images generated through the use of Google AI DeepDream
Caitlin Cawley
Caitlin Cawley, percussionist, improviser, educator and electronic musician based in Brooklyn, NY will present two pieces for speaking percussionist. The first is based on a short story by Sarah Turbin,
David Bowie Finds his Umbrella in the Afterlife
. The second is
Introducing (object)
by Carolyn Chen, for performer, recorded questions, and object.
---
june 30 // RAW & HCCRB benefit
Performance, Talk and Potluck

a joint benefit for Restorative Art Works and the Hancock County Community Reparations Board
All proceeds benefit R.A.W and the HCCRB
Join performers and board members for a community potluck dinner after the show --bring a dish If you can!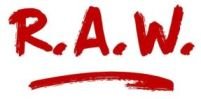 Restorative Art Works
a theater and writing group comprised of current and former incarcerated residents who along with interested community members will present a spoken word piece on the theme of 'Justice' that invites audience response and conversation. The presentation will include an excerpt from a one man show 'FIRE' that examines issues and experiences associated with long term incarceration, poverty, violence, redemption and successful reentry into community.
Hancock County Community Reparations Board
will give a brief introduction to what is happening in Hancock County within the judicial system and with schools. Actively seeking new Board members, the HCCRB will discuss ways in which folks can get involved--from mentors to board members.
Board members and mentors will be available for discussion and questions at the potluck, after the performance.
---
June 22, 7:30 pm & June 23, 3 pm //
Between Day and Night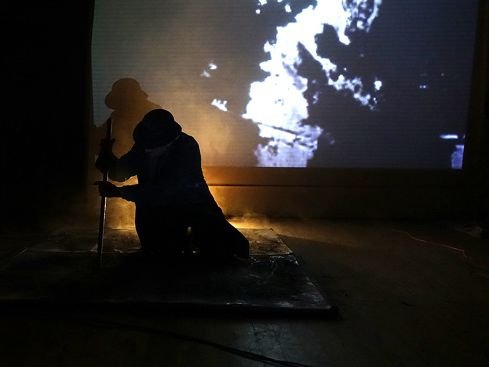 Greg Kowalski / Dave Seidel / Geoffrey Koetsch
Between the Day and the Night is a non-narrative performance inspired by the found footage of the French master Georges Rouault burning of 315 of his paintings in a factory furnace in 1947. Devoid of dialog, the piece is an audio-visual poem in which the performer is immersed in sounds and images created by his own movements. Interactive apparatuses trigger sound and visual events that give a voice to the old footage and the ashen remains of the canvases.
Gregory Kowalski
Dave Seidel
---
june 15 – september 15 // 3rd annual sound installation exhibits
hours: Fridays 4–6 pm, Sundays 1–4 pm, and by appointment
Opening night
-June 15, 7:30 pm-
will feature an artist talk by Steve Norton on his composition
Requiem
and a live performance of Luciano Chessa's installation
#ooffoo #ffooff
.
Installations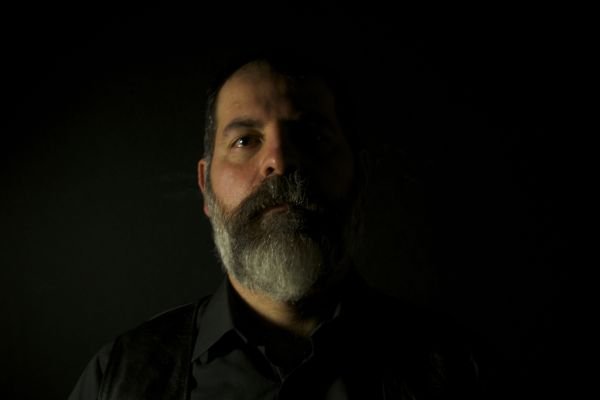 Luciano Chessa
#ooffoo #ffooff
Observe from a distance. Or get closer to the art: Framed art on the wall murmurs. The sound is shaped by increasing and decreasing light proximities, by proxemics.
#00FF00 #FF00FF
can be the resulting counterpoint of frequencies. Merging audiovisual installation and music instrument building,
#00FF00 #FF00FF
, encourages both action and contemplation. Flipping receiver's and transmitter's agencies, viewers and mirrored artworks become, intermittently, spectators and performers.
Steve Norton
Requiem
Requiem is an electroacoustic music composition whose topic is human-driven extinction and whose sound materials are exclusively the sounds of ten birds and two frogs—all species which have gone extinct during the era of recorded sound. Requiem enables us to hear them once again, ad aeternum. This is a unique moment in the history of life (and death) on earth, and the beginning of a new era.
Steve Norton
Leslie Ross
water harp
A sound construction that uses remains found in the old Penobscot Cannery--a discarded electrical factory box, can lids, metal ducts and unused canning cans--is concieved to hang on the façade of the building while using the flowing Winslow Stream which runs beneath it to sound the strings of the instrument.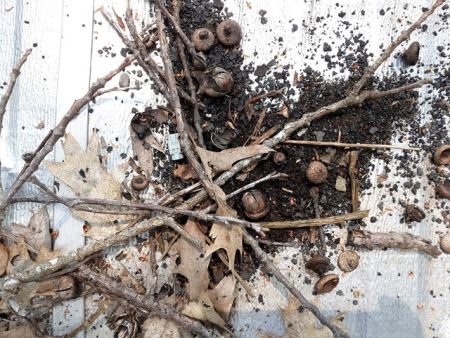 Walter Wright
a multi-media portrait
Walter Wright's installation is based on patterns and rhythms observed during his residency. He walked the area around The Cannery taking photos, recording video, and looking for textures, patterns and rhythms that are part of the natural and built environment. Rather than using traditional means of composition, he used these observations in creating the sound and video for the installation.
Walter Wright
water harp
funded in part by a grant from the Maine Arts Commission, an independent state agency supported by the National Endowment for the Arts.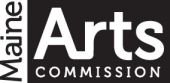 June 8, 7:30 pm // Walter Wright

WALTER WRIGHT
, During his residency Walter walked the area around The Cannery taking photos, recording video, and looking for textures, patterns and rhythms that are part of the natural and built environment. Rather than using traditional means of composition, he will use these in creating the quadrophonic sound and multi-channel video installation, and in preparing 'scores' to be performed by himself and guest musicians.
Walter Wright is an interdisciplinary artist, his practice includes computer programming, electro-acoustic music, and video performance. His focus is on "improvisation as a way of being present in the world."
---
May 25, 7:30 pm // Michael Rosenstein //
AN&R Trio
MICHAEL ROSENSTEIN
, explores the interaction of acoustic and electronic sounds in collectively improvised settings and compositional frameworks. Process is central to his practice. This includes building and modifying sound-gathering devices, amplified surfaces, salvaged instruments, and simple oscillators. It extends to gathering recordings at ocean beaches, bogs, subways, city walks, and as part of architectural investigations utilizing microphones, photo diodes, contact microphones, hydrophones, and electromagnetic sensors. He develops these raw sonic sources, transforming, distressing, and combining them, and feeding off of the unstable sonic results.

AN&R
Trio, is
NATE ALDRICH
(recordings),
STEVE NORTON
(reed instruments and electronics) and
LESLIE ROSS
(bassoon and electronics)- with nearly 90 years of performance experience among them, they have played experimental and electronic music together since 2015. AN&R creates improvised sound environments using extended instrumental techniques, electronic processing and field recordings that are rich in texture and subtlety.
---
April 6, 7:30 pm // Burton / Drury / Matthew,
New England Tour '19

A trio of visionaries,
JILL BURTON
, voice/movement (Gainesville),
WADE MATTHEWS
, electronics (Madrid), and
ANDREW DRURY
, floor tom (New York) with over a century of combined experience whose methods employ technology running from the Stone Age to the Digital Age but whose product is a timeless ritual of collective human imagination.
---
april 20 // community workshop:
needle-felting

Daksha will guide us through an introduction to needle felting and it's possibilities from sculpture to jewelry to applique....

Please bring a household sponge (as large as you can find). Needles and roving and tea will be supplied, however certainly bring along any roving or yarn or wool fabric you might like to use or share.

RSVP encouraged so that we have an idea of how many might attend, but drop-ins are welcome.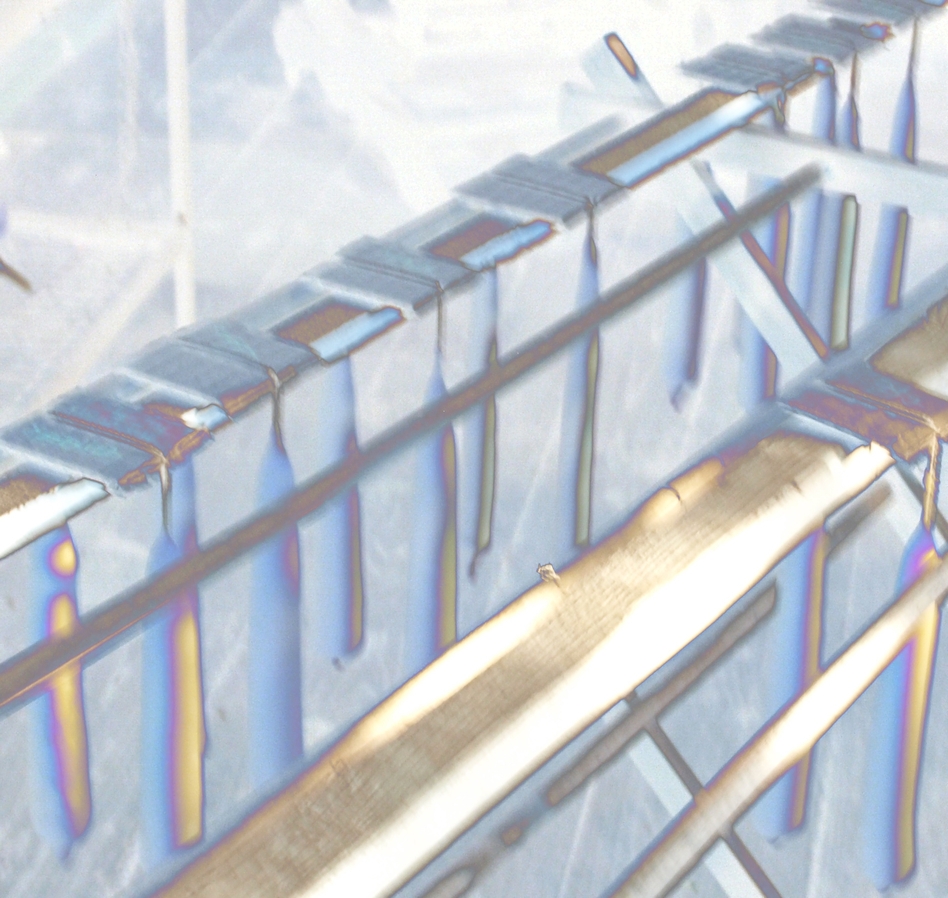 march 9 // community workshop: beeswax tapers

South Penobscot Knitting and Craft Circle will hold its first community workshop. Guiding us through the process as we each get to make a set of candles, Cat McNeil will share techniques for hand dipping beeswax taper candles. Supplies, beeswax, wick and tea, are furnished, if you'd like otherwise to contribute, bring along an ounce of beeswax or nibbles to share.
!EXTENDED! to October 22 // 2nd annual sound installation festival
Fridays 4–6 pm, Sundays 1–4 pm, and by appointment
*CYMBAL BATHS -- now offered at the close of installation hours:
Fridays at 6pm / Sundays at 4pm
*Tom Hamilton's "City of Vorticity" -- an ongoing participatory "aural score" with an open invitation for any individual musician to interact with the soundscape by performing with it.
See below for more information on the Installations
and on Cymbal Baths.